Asbestos fibres, when released into the air during incorrect asbestos handling, can be extremely hazardous. Incorrect handling can occur during storage, disposal, demolition and any other building works. Over the last three decades in Australia, the health hazards associated with incorrect asbestos disposal have become well known.
There are three main categories of asbestos: brown, blue and white. Until 1979 all three types were used in the making of building paneling, known as asbestos cement sheeting, and also in vehicle brake pads, floor tiles and electrical equipment.
In Australian states and territories, regulations exist relating to the disposal of asbestos. For example, in Victoria, EPA Victoria oversees and regulates the transportation of asbestos waste when undertaken by a commercial contractor. Australia Wide Asbestos Removal Encapsulation Pty Ltd (Aware) is permitted by EPA Victoria to transport Asbestos for the purpose of asbestos disposal.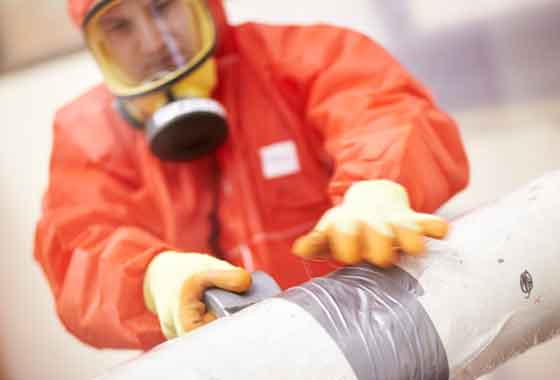 The process of asbestos removal, including the identifying, and handling of asbestos, is regulated also. In Victoria, again as an example, regulation is via Worksafe Victoria. Different classes of Asbestos disposal and removal are issued, and AWARE are an accredited A Class contractor for Asbestos Removal and Asbestos Disposal.
Should you find asbestos on your property, or have reason to believe you might have material requiring identification, it is recommended that you contact an A class removalist who can assist you in identification, removal and disposal.
Own Equipment
We utilise our own EPA Licensed trucks to dispose of the Asbestos, which negates the need for large bins which may impact on your space. We are self supporting with respect to all of our equipment required to undertake the removal processes, which enables us to provide competitive pricing and quotes.
No Large Bins Needed
All equipment and bins are removed from site after works completed, leaving you with a clean home.
Organised
We are also happy to arrange other requirements to suit your needs including air pressure contamination control, replacement of roofing products, part or full demolition of garages, sheds, buildings, and we have a great professional relationship with a number of tradesman including carpenters, plumbers and electricians, that are able to provide an honest, competitively priced service.
We Make It Easy
Our aim is to undertake our work in a safe, professional manner, and keep our clients satisfied, so that you will pass on our good work to your friends and associates.
OH&S
Our OH&S safety systems are updated and audited annually. Wherever you may be our residential asbestos removal is offered in Melbourne, Geelong, and other parts of Victoria.
Safety First
Regular safety audits and updates ensure our safety measures offer you the greatest protection.
'A CLASS'
AWARE are one of the few companies offering 'A Class' asbestos removal services. Don't trust your back yard to a back-yarder. Contact AWARE today.
Top Level Service
Home safety is too important to rely on inferior safety providers. Contact AWARE to ensure your safety.